Tropical Oasis Retreat Maui ?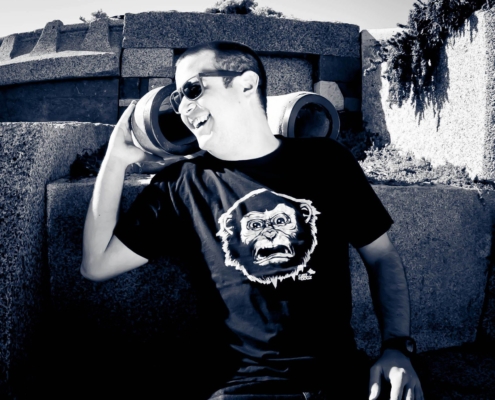 Christian Martin
Dirtybird Records, San Francisco
Tropical Events
Christian Martin's Bio
While many have previously thought Christian Martin to be birthed from the bass within the stars, the OG Dirtybird co-founder was immersed in music from a very early age. Beginning his musical journey with classical piano at age five, then advancing to jazz theory and eventually becoming involved in bands throughout high school and his formative years.
In 1995, Christian discovered electronic music and sound system culture after attending an event by SoCal's legendary Moontribe collective. Then after, the prophecy had unveiled itself. Fast forward 8 years in front of giant speakers from New York to London to Detroit, and Christian would act as the catalyst to what we now know as the Dirtybird BBQ. With the swipe of a credit card, he bought the original Dirtybird sound system.
Christian's intense love for music vibrates through the speakers, floors, and walls at every event he plays. His sixth sense for what make the dancefloor tick, Jedi-like DJ mastery, and connection with the crowd are what make his sets unique and capable of healing. The proof is in the tears of Dirtybird CEO Claude VonStroke, who says that Christian Martin's DJ set at the inaugural Dirtybird Campout was the only set that ever moved the boss bird to cry.
Thanks to his emotional and psychedelic take on house, techno, and bassy breaks, Christian has developed the reputation as an afterhours & sunrise specialist. He has closed Dirtybird showcases at such diverse locations as Shambhala, Holy Ship, WMC in Miami, and both Dirtybird Campouts.
You know when you're on the dance floor during a Christian Martin set, and it's this reason that Christian is a mainstay at world class events including Symbiosis, Do Lab at Coachella, Lucidity, Northern Nights, Secret Garden (UK), Fusion (Germany), Bass Coast (Canada), and his original electronic inspiration, Moontribe. The demand for his music extends internationally, touring in Australia, Germany, Mexico, Italy, & the UK.
2017 will prove to be Christian Martin's biggest year yet as he launches a new record label & lifestyle brand – Trippy Ass Technologies. New music is on the horizon as Christian is set to release a slew of originals & collaborations with dance trailblazers Chris Lorenzo, Ardalan, Sinden & Mark Starr.What we can expect from Christian Martin can be foreseen as nothing short of mind melting.
"The reason that Christian always plays at the end… is because he's the best!!" — Claude VonStroke, Dirtybird Campout 2016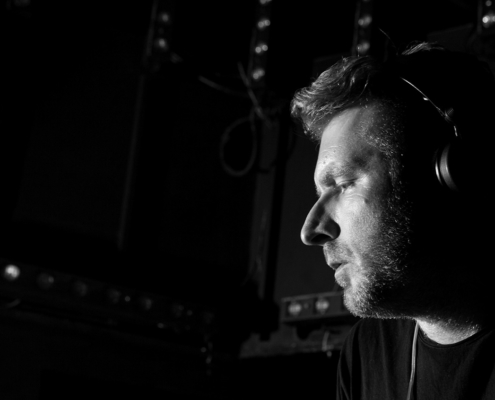 Jimpster
Freerange Recordings, London
Tropical Events
Jimpster's Bio
Jimpster (Freerange Records, Delusions of Grandeur, London)
Here's the first two hours of his epic Tropical mix:https://soundcloud.com/tropicalho…/jimpster-live-at-tropical
Jimpster FB Artist page: https://www.facebook.com/pg/jimpster.freerange
Jimpster Soundcloud: https://soundcloud.com/jimpster
Jimpster Short Biography
Taste-maker, label boss, producer, DJ, remixer. Jamie Odell wears many hats and wears them well.
Under his Jimpster alias, he has become one the most revered deep house producer/DJs operating on the scene today. His esteemed labels Freerange and Delusions of Grandeur continue to help break incredible new music and equally impressive acts such as Detroit Swindle, Tornado Wallace and Session Victim. From his UK base, Jimpster has inadvertently become a standard-bearer and custodian of the authentic house sound, and carries this flag to the four corners of the world.
As he puts it: "House music has been my first love and passion since hearing 'Strings Of Life' for the first time at The Essex Barn in 1988 and I'm still inspired by the memories I have of that period when the whole electronic music scene was so fresh and exciting as well as being really broad and eclectic. One minute we were listening to Lil Louis' 'The Story Continues' and the next, freaking out to 'Radio Babylon' by Meat Beat Manifesto. Every track seemed to have its own strong identity and unique sound and I guess that ethos is something I try and carry through to my A&R for the labels. Certainly as a producer I am still striving to produce that perfect house track which will stand the test of time in the same way that those early classics have. The blueprint is simple: to inject life, depth, soul, sincerity and attitude. This is what sets the players apart from the pretenders. That challenge is what keeps me focused and inspired 25 years on and I'm sure it will keep me on my toes for the years to come."
If you have not hear this guy you are in for one of house music's greatest selectors and mixers, this will be an extended set which will close the entire event, just like in 2013, we at Tropical are very very excited for this!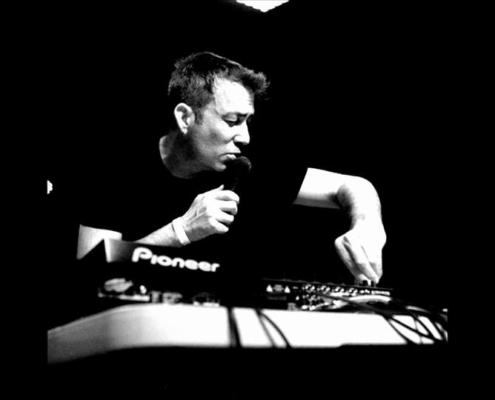 Sunshine Jones
Dubtribe Sound System, San Francisco
Tropical Events
Sunshine Jones' Bio
Sunshine Jones has been an active member of his ever expanding community since 1988. A voice in electronic music, Sunshine is a founding member of Dubtribe Sound System and has travelled the world for more than three decades performing live, improvisational electronic music anywhere and everywhere there is love, and art, and people willing to gather and dance, or lay back and listen.
A central piece of Sunshine's philosophy has always been DIY. Do it yourself. Assaulting ideas like "someday" and "commodity fetishim" through the heart of a poet, and the mind of a situationst his radically-inclusive music, words, and their recording, documenting, and presentation are always aimed at asking us to reflect upon ourselves, and to stand up, and get to work.
Love is the message. Nothing else is real. Sunshine does more than most, and is always working, building, recording, designing, producing, and performing. He travels the world playing live improvisational electronic music without stopping. His ever growing body of work include 14 studio albums, more than 125 singles, thousands of live performances, poster art, web design, technical manuals, DIY electronics classes, an 11 year running digital transmission from wherever he is in the world called Sunday Soul, interviews, classes, the odd DJ set for fun, and a travelling seminar called the PLAY LIVE! Seminar where Sunshine creates community in the destination city, gather all walks of live to rally around the idea that electronic music is a viable, vital, and valid art form which can (and should) be free of the shackles of the mobile phone, and the computer. Free of the prerequisite notion that we need a thousand dollar appliance to produce music, people are inspired, and as empowerd by his seminars as they are from his spoken word, written word, photography, graphic design, recordings, or live performances.
For a little more about Sunshine Jones in the present tense, have a look at the recent documentary about him:
HOME The Official Document of the 2016 Sunshine Jones Live Ground Tour
A Martha Traer Film
http://theurgencyofchange.com
Password for viewing is: FALLINLOVENOTINLINE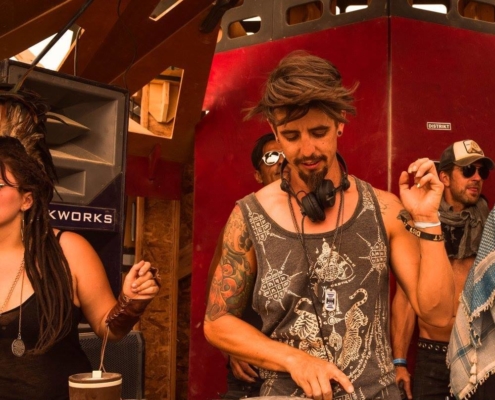 Aaron Jacobs
Los Angeles
Tropical Events
Aaron Jacob's Bio
Aaron Jacobs' music speaks from his unique personality; fresh, fun, and adventurous. Aaron's artistic style defies all classification, driven by a love for all sounds and shapes of music rather than a strict devotion to one style. Aaron's eclectic and adventurous taste in tunes has kept audiences on their toes ever since he began DJ'ing in his hometown of Santa Fe, and his commitment to solid grooves and sounds has always kept the dance floor moving. He's been on the move as well, traveling to new destinations in the US and Mexico while managing Wulfpack in Los Angeles and residencies at Burning Man's legendary day parties at the DISTRIKT sound camp. Along with co-founder Jamie Schwabl, Aaron organizes the beast known as Wulfpack, Southern California's most inclusive party crew. Under the Wulfpack banner, Aaron curates the Wulfcast guest mix series, their record label, and the event calendar. Wulfpack boasts an impressive and diverse roster, showcasing the incredible depth of talent in Southern California. In 2018, Wulfpack partnered with ChinoSound to throw the first Synergy Festival, a weekend of non-stop music in the Mojave desert, with the promise of more to come. Aaron has also been returning to his Drum n' Bass roots with performances as his alter ego Aaron Jakobs, showcasing his range at bass music stages in addition to the groovy house and techno that has made him a staple of the underground. You can catch him out playing or partying any given day, soaking in the abundance of good.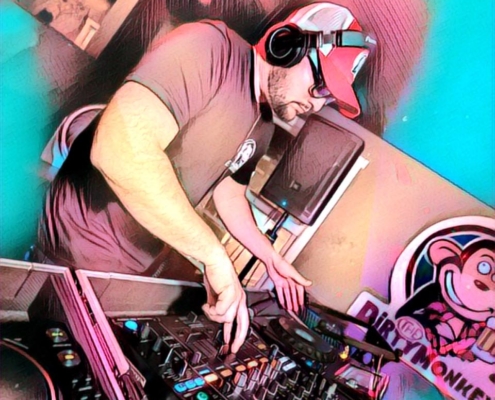 Andrew Dana
Maui
Tropical Events
Andrew Dana's Bio
Andrew Dana got his start Djing in 2002 PDX playing the music he loves… HOUSE. Funky, Techy, French, Italo disco, deep, Progressive and Tropical. Getting inspiration from some of the old school greats including, Bad Boy Bill, Donald Glaude, Paul Oakenfold, Dj Dan, Miguel Migs, Marques Wyatt, and Mark Farina to name a few.
In Portland around a year later, Andrew and his best friend Dj Benjamin Jay went to a Tropical Tour show put on by Manoj and fell in love with the Tropical House sound put out by Mr. (Ben) Annand and the other Tropical resident djs. During this time he Tropical was a big influence for Andrew as well as his favorite string of parties in Oregon thrown by his great friend Ernest Ryan (aka Wiggles). Wiggles and friends events were always super happy vibey parties and gave newer house Djs a chance to shine.
For Andrew Dana the real beginning was following his move to Maui Hawaii in Oct 2010. Inspired by many great parties thrown in gorgeous locations and supported by great minds Like Toben Lindell, Dan Hillz, Scott Doran, Del Sol, Nate Castro, Markiss Knobs, Dustin Robert, and of course his friend Benjamin Jay, Andrew has helped facilitate a resurgence in house music on Maui.
In late 2016 The Maui House Collective took shape with Dustin Robert, Benjamin Jay, Del Sol, and Andrew at the core. Shortly after, The Dirty Monkey Lahaina Opened and provided the ultimate Front Street location to bring bigger names to the islands. Andrew took up a management job there and with the help of his friend and owner of the spot Matthew Robb, Names like Marques Wyatt, Scotty Boy, Donald Glaude, and Ben Annand became a reality.
A great party at the beach with a clean sound system and a bunch of happy people will always be where Andrew's heart feels most at home. On the decks blending tracks for as long as humanly possible, keeping people guessing what's next, and getting people's feet start moving without control are his goals. If you want to experience these island happenings make your way to Maui and look up Andrew Dana and The Maui House Collective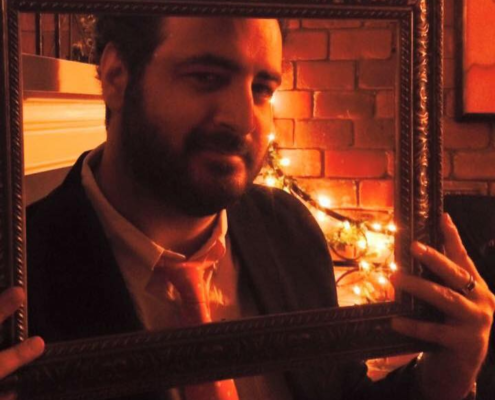 Atnarko
Orlando
Tropical Events
Atnarko's Bio
Atnarko (Infiltr8:Celebr8 / Noir / Lazy Days Recordings, Orlando, FL)

Born on the Atnarko River in Northern Canada , in bear country. Atnarko channels his inner bear as he DJ's and produces hypnotic dance music straight from the heart of the beast.

Atnarko is considered a legend of the underground house music scene in the south. He is known for his long extended dj sets into the wee hours of the morning taking adventurous partygoers on moody journeys.

He also produced some of the early breaks records that defined the genre as it was emerging. Including the classic "tunnel vision" sited as an early influence by Maceo Plex. As his career developed he went on to produce many many records , moving into other genres most notably house and techno. With close to 200 releases appearing on a wide variety of labels his paw prints are emerged in dance music.

His label and party Infiltr8:Celebr8 continues to set the pace for the underground events in his city , booking our dance music friends and heroes with great success and expanding on the city culture. He continues to walk this path, playing and producing music he loves regardless of boundaries.

Over his long career Atnarko has told his musical story far and wide and would love to tell it to you.

Atnarko first started Djing in 1995 and describes mixing as the pen he uses to tell his story.


Atnarko also started organizing events in 1995 and had this to say:

"I throw select parties to further underground music in my city and to make magic moments for our friends and family."

Label and party: http://www.infiltr8celebr8.com/

Super excited to welcome Atnarko to the Tropical family!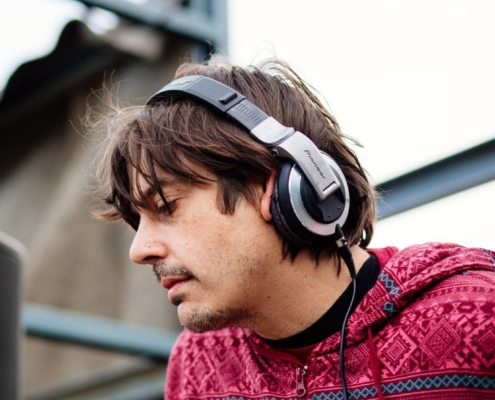 Ben Annand
Los Angeles / Maui
Tropical Events
Ben Annand's Bio
In his zone from deep house to techno, Ben Annand pairs impeccably smooth mixing skills with a dynamic style that keeps the music moving, often flowing over breakdowns and always spending most of his time in the mix.

For me, a great mix is the interplay of two unique pieces of music, creating greater than the sum of its parts, and a great set weaves those mixes into a musical flow you can't help but loose yourself in on the dance floor. Technology changed the game a lot, but the goal remains the same.

Ben learned to mix in 1996 and just two years later became resident DJ at the famed Moontribe Gathering, and started his own production company, Tropical. The first half of his career was mostly focused on DJing abroad, leading to 13 trips to Moscow's Propaganda club, travel all over Russia, Spain, and Mexico, an appearance at Wiggle at Fabric in London and two at the Labyrinth Festival in Japan. After marrying his love Jessica in 2009, Ben refocused efforts more locally, and is now one of the top West Coast festival DJs with recent appearances at Oregon Eclipse, Motion Notion (CND), Cascadia (WA), Lightning in a Bottle, Sunset Campout, and Desert Hearts (CA), among others.

Celebrating its 20th anniversary this year, Tropical has evolved to 500 person sold-out boat parties in the summer and the legendary Tropical Oasis Retreat which has brought together top artists from the West Coast 6 times in California and most recently, Hawaii. A breath of fresh air in the sometimes ego-dominated dj and party world, Ben has donated over $27,000 to charitable causes through Tropical.

In 2018, Ben Annand left his teaching job of 15 years to begin another new chapter in his music career. Now a full-time DJ, Ben has more time and energy than ever to pour into his sets. He is quickly attracting new places to play his music, resulting in his busiest Spring tour to date, and looks forward to an ever brighter future.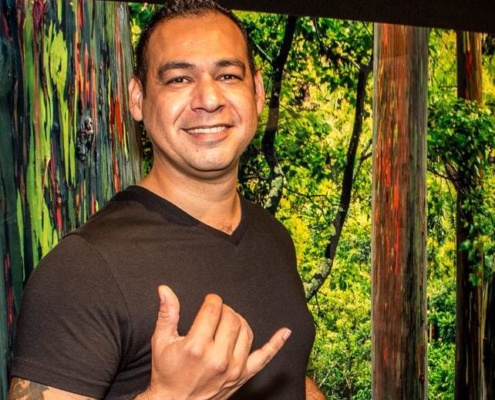 Del Sol
Maui
Tropical Events
Del Sol's Bio
Del Sol (LoveHouse, Maui House Collective, Paia, HI)

Del Sol fell in love with house music in 1991 while attending his first underground warehouse party featuring the legendary Doc Martin (Sublevel) in Los Angeles, where he was born and raised. Already a part of a DJ crew, he switched his focus from hip hop & funk to techno & house and went on to become a staple in the South Bay and Long Beach underground scene.

In 1994 he joined the United States Marine Corps and was stationed in Kaneohe Bay, Hawaii. The military offered him the opportunity to travel through south east Asia, where he was welcomed to play in many renowned house clubs such as Liquid Room & Yellow (Tokyo), Zouk (Singapore) and others in Kuala Lumpur, Thailand, Bali and Australia.

When not on tour he could be found playing in Honolulu's vibrant rave & club scene, sharing stages with house heavyweights like Miguel Migs, Marques Wyatt, Tony Humphries and many more.

Del moved to Maui in 2005 and has been a staple in the underground scene since. Anyone that knows him knows that his love for house music & downtempo is deep and drives him to keep the scene alive and thriving. You can catch one of his electrifying sets at the Dirty Monkey in Lahaina, Vibe in Kihei and Charley's Paia in any given moment as well as full moon and beach parties.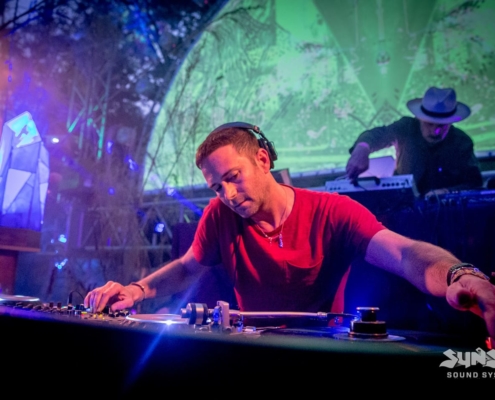 Galen
San Francisco
Tropical Events
Galen's Bio
galen (Sunset Sound System, Roam Recordings, SF)

Galen founded Sunset Sound System in 1994 in Berkeley, California. It began as a small outdoor dance party set against the backdrop of the sun setting in the beautiful San Francisco Bay. Within just a few years, Sunset became an internationally recognized production company drawing thousands of attendees to sold-out events throughout the year — from boat parties to the annual Sunset Campout Festival in Northern California.

Galen has earned an international following and has toured extensively in his career throughout the United States as well as performed at major clubs and festivals in Europe, Central America, and Asia (ie. Glastonbury, Love International). With a university degree in Sound Design and extensive experience spanning almost 25 years, Galen has gained the respect for being technically proficient and yet has a unique fluid dj style. The psychedelic music scene of 1990s San Francisco provided a launching point to his extensive vinyl collection that spans many genres from classic disco to post-punk to roots reggae and modern house music. His sets can travel a diverse range yet maintain a conscious groove of cohesiveness, always appropriate to the time and place. They are thoughtful, yet never pre-planned, with artfully-timed track selections that spark any dance floor, appealing to the old school just as much as the new.

Music productions are also at the core of expression for Galen. Collaborations with Claude Von Stroke, Justin Martin, Lopazz, Pillowtalk, and Shiny Objects have laid the foundation to new solo endeavors. Releases to date are defining his bass & groove laden production style.

Galen has been Djing since 1993 and has this to say about at:

Making a great mix involves appropriate programming for your set time and mixing music in a way that enhances each song and creates new textures that each song can't achieve on its own. The energy should transfer fluidly between each song building an overall feeling or vibe throughout the set.

You can peruse his Soundcloud here: https://soundcloud.com/dj-galen

Galen started producing events in 1994 to build community and provide a musical forum to dj at.

Information on Sunset Sound System can be found here: https://www.sunsetsoundsystem.com/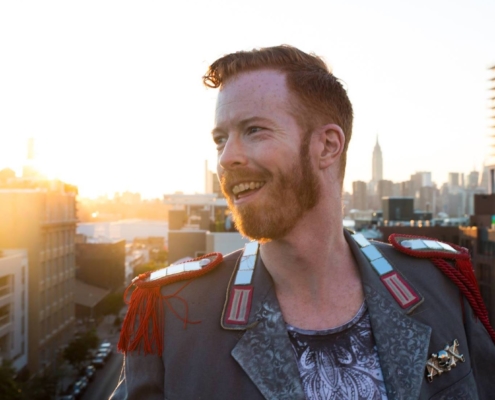 Gavin Stephenson
New York
Tropical Events
Gavin's Bio
Gavin Stephenson ( ebb + flow / Second Format, NYC)
Bred on UK rock and synth pop, Gavin started dropping records on the turntable since the day he could reach it.
With a music career spanning decades, Gavin is an artist that pulls inspiration from all points on his musical path. His sound ranges from energetic and funky to deep and dreamy, touching on all that falls between. Reading the crowd and joining their journey is essential to Gavin's style.
Gavin is a resident & co founder of NYC based ebb + flow. Along with partner Iman Rizky the journey continues producing events, DJing and sharing his love for music with all.
Gavin first started Djing in 1998 and has this to say about mixing:
'A DJ set is a connection between dance floor and artist. Aligning with the energy of the crowd to take them on a journey is essential. When trust is established there are no limits and the music will speak for itself.'
Check his work on Soundcloud: https://soundcloud.com/gavin_stephenson_nyc
He also began organizing events in 1998 and offers this insight on his motivation:
'I organize events to bring people together, to create community and to share my greatest passion in life: music. If I can leave my mark here by adding a special moment to someone's life I'll be content.'
Ebb and flow: https://www.ebbandflowmusic.com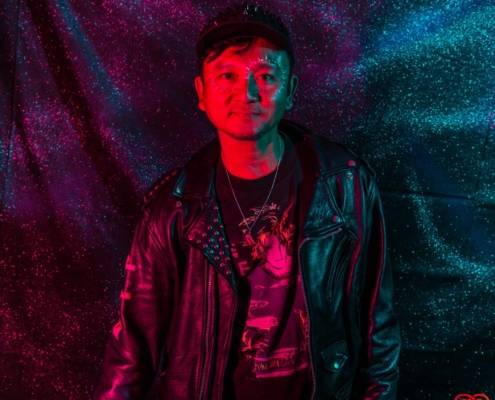 Iman Rizky
New York
Tropical Events
Iman's Bio
the other half of Ebb and Flow, and our fellow New York City representative:
Iman Rizky (ebb + flow / Second Format)
Iman Rizky was bred on house beats from the early '80s and '90s. His relationship with dance music back then was a transcendental experience every weekend at places like New York City's Red Zone, the Tunnel, Limelight's Disco 2000, the Sound Factory, and the legendary Twilo. Iman became a promoter for the Tunnel, Limelight, and the Palladium during the club scene era of the late '80s. His immersion in the heyday of club culture in NYC prompted the pursuit of his true life-long passion of DJing. With his extensive knowledge of dance music from both participation and promotion, he was able to cultivate a unique DJ sound to call his own. As the club scene era wound down and the dance music scene went underground in the early 2000s, Iman formed the party production group, Ku-Deta, which put together events stateside as well as internationally. Around the same time, he started his weekly DJ residency at SEA in Williamsburg, Brooklyn, where he continues to play on Fridays and Sundays.
Ku-Deta provided a precursory template for ebb + flow music, an NYC-based production company that Iman Rizky founded with Gavin Stephenson in 2013. The underground parties of ebb + flow music have brought consistent high quality music and an undeniably contagious vibe to the dance music scene. As an ebb + flow resident, Iman's DJ sets are laden with minimal groovy beats layered with melodic sounds that build in a cycle of high peaks and low valleys. He takes the crowd on a thrilling roller coaster ride of music that elevates the mind, moves the body, and satisfies the soul. In the summer of 2014, Iman took ebb + flow to another level with collaboration on music production with Justin Marchacos and Gavin Stephenson. The trio became Second Format and has been producing tracks with driving bass lines and catchy, danceable hooks. Track releases are available on Cityfox label.
Iman first started Djing in 1990 and describes his mixing as
'providing a rollacoaster journey through deep sexy groovy minimal sounds with vary peaks and valleys'
Check his music on Soundcloud
Iman began organizing events in 1993 and continues to organize 25 years later 'for the love and passion of music where we can bring the underground community together'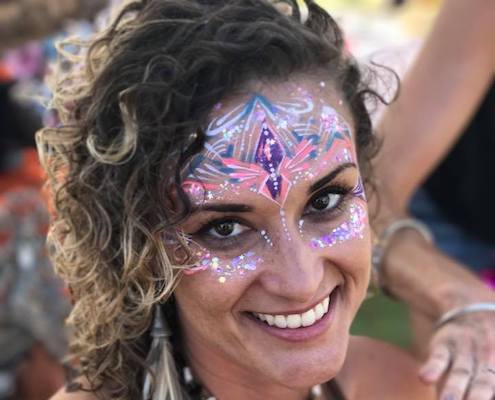 Jamie Schwabl
Los Angeles
Tropical Events
Jamie's Bio
Music lover, DJ, and producer Jamie Schwabl encompasses many different elements in her sound, and her upbeat, vivacious presence is contagious to all. Born and raised in Southern California, she developed her passion for performing at an early age beginning with ballet, theater, percussion, and then DJing. A few good bookings in 2007 led to her opening for the top progressive and techno DJs in the world, when she landed a residency with Giant in Orange County in late 2008. This was a huge break that led to her playing for Giant in other cities, and regular bookings in Los Angeles at the legendary Avalon Nightclub. In 2013 she co-founded the record label and DJ collective, Wulfpack. The label made waves quickly and won "Favorite Label" at the 2015 Los Angeles House Music Awards.
Her love for many genres makes for an exciting journey that is ever changing and evolving. From groovy driving late night techno, to deep and uplifting sunrise sets, there is a feel-good vibe that Jamie creates that is truly unique and timeless. This also comes through in her music productions. She is currently writing music as Jamie Schwabl and under the moniker Om Phonic with Wülfpack partner, Aaron Jacobs. She is a resident DJ for Wulfpack, Tropical Events, and Salvage Sundays LA.
Jamie first started DJing in 2006 and has this to say about her mixing style:
Choosing tracks that tell a story, placing them in a way that compliments each other, taking chances and selecting tracks that I haven't heard before. I love to mix genres. I love to mix the dark and the light. I always choose tracks that make my hips move and my body groove and I always balance that out with tracks that lift me up with melodies that evoke emotion and happiness. I love grounding techno and ethereal melodic deep tech. I also like sounds and vocals that are not ordinary, I like weird and strange and I even like to be slightly out of key in a tasteful way. I even like to layer vocals from two different tracks that don't battle each other, but call and answer each other.
Jamie started producing events when she helped form Wulfpack in 2013 and is motivated by her desire "to create a beautiful flow of energy and music that contributes to deep human connection and healing."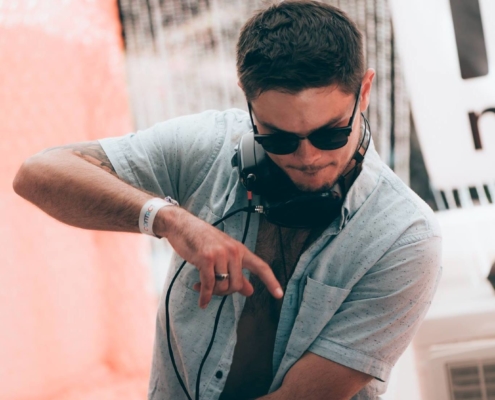 Kinohou
Big Island / San Diego
Tropical Events
Kinohou's Bio
Peter Kinohou Curtis is native to Hawaii. He started his DJ career as a radio host back in 2009 when he was inspired by the eclectic sounds of trip hop and euro lounge. He saw a void in his small island for electronic music shows and started his own company, Bass Innovations LLC throwing organized outdoor raves across the Big Island. They were widely successful, but he wanted to dive deeper into the scene and who truly influenced it.
Answering the calling to the meaning of his middle name "new beginnings," Kinohou moved to San Diego in 2014 and started to explore. Within a year, he has well acquainted himself to the majority of local DJs of SanDiego. He has shared the decks with the likes of Thee-O, Croatia Squad, Raxon, DJ Huggie, DJ Mark E Quark, Marques Wyatt, Cris Herrera, Matthew Brian, Joe Pea, Red Sonya, and many more San Diego and L.A. Heavyweights.
Now as a highly sought out independent DJ, he has put Dance Klassique, Souleil, House Music Friday's, Soulwork Presents: Eden and other notables into the books. He brings a Euro vibe playing a range of music from deep tech house to tribal to minimal techno, covering a wide range of 'basses' for settings from the gritty city to the desert. He is sure to pick the proper vibe for his next show.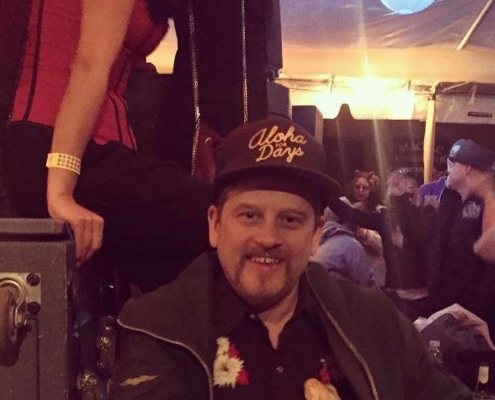 Little John
Santa Cruz
Tropical Events
Little John's Bio
As an ubiquitous fixture of Northern California's music scene Little John is more than a DJ and an icon; he is a force of nature.
An extraordinary DJ, producer, remixer, and music historian, Little John's musical artistry transcends genres with an intensity, knowledge and savviness possessed by few. Whether he's playing Tech-House, Mid-tempo, Future Bass, or Booty Slap, this innovator continually unites factions and taps new levels of creativity simply for the heart of it. With an acutely discerning ear and an open mind and heart, his ability to read a crowd and mix the perfect vibe truly sets him apart. His is a genuinely unique approach that will move body, mind, and soul.
His roots run deeply through the creative hot-bed of San Francisco's mid 90's underground House scene and the incredibly diverse Santa Cruz free party scene. He became a resident of the legendary 13 Moon Tribe while simultaneously pioneering production of the wildly successful Raindance events, which continue to run strong today. Little John has played along-side many other first-class musicians and is regularly requested with such acts as Bassnectar, Tipper, Mark Farina, A.Skillz, and Fort Knox Five, to name just a few.
Current musical projects include a collaboration with Takuya Nakamura of Cocorosie; tapping into his gypsy roots and the birthing of his alter ego, Gudada, performing Gypsy Swing, Balkan Beat and Camel Krunk.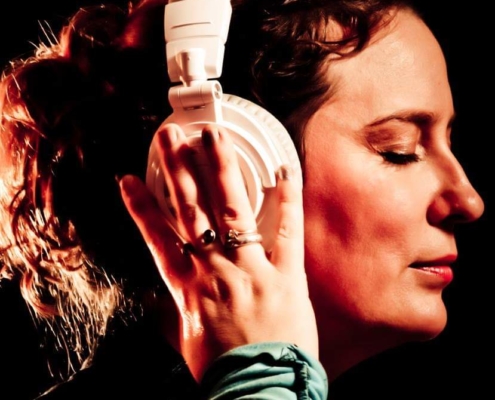 DJ Maggie
Los Angeles
Tropical Events
DJ Maggie's Bio
DJ Maggie (Moontribe Collective, Los Angeles)
Hailing from Los Angeles, fellow Moontribe resident DJ Maggie has been a regular at Tropical since we started doing campouts in 2007, allowing us to broaden our musical range to include more downtempo. She's been our go-to downtempo artist since.
One of our music goals following January's retreat on Kauai was to feature a gentle easing into each day of the retreat, meaning more chill music early on before getting into house. When we decided that we knew we had to bring Maggie!
Lots of us dabble in downtempo but Maggie has been dedicated to the genre from the start, something that shows in her vast archive of sets.
Speaking of, we've got a brand new one here to share
More about Maggie…
DJ Maggie is not out to rattle empty beats. She's after a human connection through the universal language of music. Her soulful sets go deep into the groove of ambient, downtempo and trip-hop, taking her audience along on a spacious, uplifting ride.
The Southern-California native purchased her very first album at age nine. It was 'The Wall' by Pink Floyd. Decades later, she still applies similar discernment to the artists and tracks she hand-selects whether she's playing a desert dance floor, forest festival, or creating a gentle mix for a yoga class. She clocks light years online scouring for transcendent tunes—firm favorites include the work of Bluetech, Hibernation and Kaya Project.
An early and enthusiastic adopter of the mixed tape, Maggie has always loved sharing good music (and audio odysseys) with her friends. Through DJing, she's also captured the ears of conscious partygoers, as well as downtempo and trip-hop music fans all over the globe who find her on Facebook, Soundcloud and other sites.
Initiated to the decks by her beloved Moontribe community in 2005, Maggie has gone on to play events for other cool crews like Green Sector, Tropical and the Do Lab. Ultimately, Maggie dons her headphones in the hope that her playful, positive music offers a moment of meaning, healing or inspiration to those tuning in.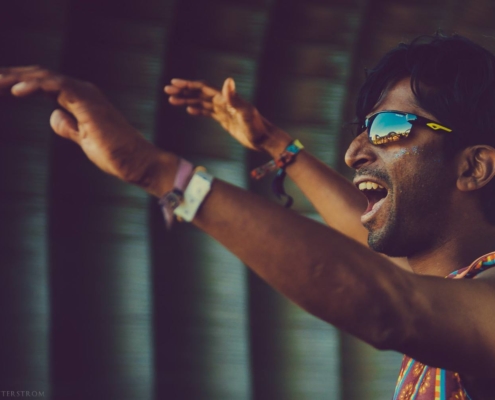 Manoj
Portland
Tropical Events
Manoj's Bio
DJ Manoj arose from the dancefloor and will always be a dancer at heart. He is one of the pioneers in the west coast dance culture emerging circa 1991 both shaping and being shaped by this amazing adventure. Continually moved and changed by the power of music and the many transformational experiences he encounters while dancing and performing, he now dedicates his life to share with others the inspirations that he has received.
Understanding and deeply rooted in the legacy of the the most formidable founding dj's, that the power of dance music is unleashed through the ability to take dancers on a journey, he uses the contemporary technologies available with the vast genres of music to weave a limitless musical landscape.
Realizing every opportunity to play music for others is a gift, he does his best to stay open, meet the dancers where they are at and then take them to a more inspiring, lighter and playful space within themselves as the music comes through.
Manoj first started DJing in 1996 and has this to say about it:
My take on mixing is to notice what is happening energetically on the dance floor prior to taking the stage. Matching the energy of the dj that is stepping down and then based on my assessment of the energy of the floor to move the music towards what I sense the dance floor most needs, whether it is more playfulness, depth, intensity, etc. Unlike many performers these days, I still love the use of vocals periodically to tell a story. There is power in language that rhythm can't simply convey in the same way.
A great mix for me has impeccable selection of music, a diversity of sounds over the range of the mix that is programmed to create a seamless journey and tells an inspiring story.
Manoj started his event production career in 1991. Here's what he has to say about organizing events:
In 1992 I had what I would call a life changing experience attending an event in SF. I was already producing warehouse events since 1991 but this moment that I had changed my view of what a party was from simply being a celebratory event to one that could create life changing momentum for people.
Since then, I have used event design to elicit different positive outcomes for the attendees by applying inspiration, intention, attention, focus, community, art and music.
What's Manoj up to right now? He's just back from Shift Festival in Grass Valley, OR, where he is the Talent Curator and Sound Guru 🙂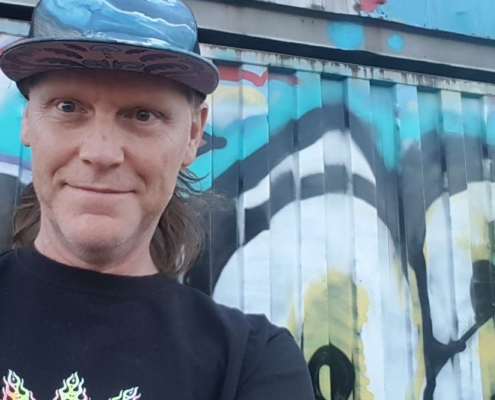 Michael Manahan
Seattle / Portland
Tropical Events
Michael Manahan's Bio
Michael Manahan first came to Tropical Oasis Retreat in 2012, and has played every one since. When I hatched the idea of bringing our retreat to Kauai last year, Michael was the first West Coast dj I talked to. He readily agreed to help rally the fun people from Seattle to our retreat and became the first member of our team!
In 2019, we expand our vision to include both the West Coast and East Coast US with the theme: "Connecting the Coasts." Like last year, we have chosen one core person from each city who is absolutely at the top of their game as both a dj and an event producer to be the point person there. There is no better choice than Michael Manahan in Seattle!
Michael Manahan first started DJing in 1989 and has this to say about it.
"I try to bring sounds that enhance an environment and experiences. hypnotic grooves and curious soundscapes get me every time"
He started his event production career in 1992, with full moon parties in the North cascades. He throws parties because
I love bringing people together, creating atmospheres for connectivity, inspiration and self realization.
What's Michael up to right now? Why he's off to Cascadia Festival, a yearly event he produces near Granite Falls, WA.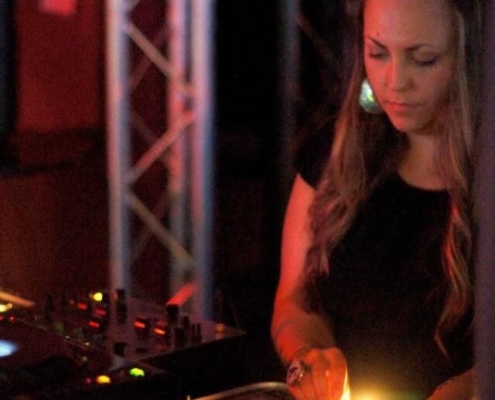 Mena
Portland
Tropical Events
Mena's Bio
As a classically trained pianist, self taught guitar player and award winning Jazz vocalist by the age of 12, Music has always been an obvious path for Mena. Cutting her teeth as a DJ in the underground clubs, festivals and warehouse parties of the 90's it is the Pacific Northwest and it's many artists that have granted her countless life-long influences.
A DJ with nearly 20 years behind the dex, 2013 was her debut year in production and she hit the ground running with 13 releases on 7 labels in 3 countries. Today in her home town of Portland, Oregon, her influence is both local and international with releases on underground House labels across the globe.
As a studio vocalist, budding producer, composer and Dj she's carved out a sound all her own. To date, having collaborated with a hand full of heavy hitters Mena has done projects on Caboose Records, Native Soul Recordings, Caliber Sounds, Great Lakes Audio, Grin Music and DJ Sneaks label 'I am House Gangster' to name a few. A true member and champion of the House Music community, the girl's got something for your mind, your body, and your soul!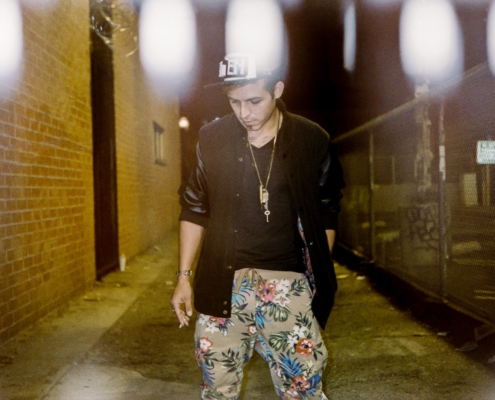 Soundsex
Oahu
Tropical Events
Soundsex's Bio
Miko Franconi fka SoundSex, has been living up to his name the moment he stepped up to the decks, and into the studio. Having been involved with electronic dance music since the early 90s, his pre-teens, he was bred to do this. Miko started as an opening DJ act for his oldest brother in 1999, and has since been under close watch of aficionados everywhere, surpassing expectations worldwide. Being a classically trained pianist, and more than comfortable with any multitude of instruments, including his native (Hawaiian) Ukulele, he has been more than welcomed into top-notch studios around the globe. Miko Franconi has been twisting hips since his first release, "Tension", on Decoding Jesus' "Let's Beat Milo Records" (LA) in 2010. Side project with wondering electronic guru Josh Wetherington (together known as "Wet::Sex") has received support from chart-toppers Claude Vonstroke (Nov 2012 "Stepp Harder" Beatport Chart) and DJ-MAG staples and Dirtybird co-founders, Justin & Christian Martin.
The studio is not the only place this young star has been shaking it up, in 2012 he was named Hawaii's SPINZONE DJ OF THE YEAR. Holding residencies at Ultra Music Festival (Miami), Artisan Afterhours (Las Vegas), Asylum Afterhours Honolulu (#77 DJ-Mag Top 100 Clubs), and having just finished a staggering 21 shows in 19 cities, covering 9 states and 4 festivals in only two months (Lick My Soul Tour), this block-rocker is no stranger to the DJ booth. With his sound increasingly getting support, his rise to the top is inevitable… it appears the Franconi Legacy has much more in store for us all.
Thee-O
Los Angeles / Oahu
Tropical Events
Thee-O's Bio
Thee-O started DJing at the young age of 13 and by the time he was 18 in 1992, he started DJing in the thriving underground rave scene of Southern California. He has created a name for himself while changing genres and staying true to his integrity, committing to what he feels is the best in underground dance music. His consistency of skillful mixing and lively scratching has cemented "his sound" regardless of what genres co-mingle in his style.
In addition to his DJing, Thee-O is also an accomplished producer and remixer that have landed tracks on Bedrock, Suara, Perfecto, Looq, Drops and System Recordings to name just a few. His approach to music production mimics his DJing artistry in the aspect that genre comes second over the feeling of the music. Genres and styles are split, shattered and then reformed into songs that work on multiple dance floors.
Recently, he was DJing and producing with Robert Pointer (AKA Robtronik) under the name Stylus. Stylus is also responsible for some of the most engaging events to occur in Los Angeles . Their events have occurred in amazing venues such as King King in the heart of Hollywood, The Standard Rooftop in downtown LA and Los Globos in the trendy Silverlake area, while attracting international talent of both House and Techno to join in on the fun.
Currently, Thee-O is relaunching Viva La Tech with his partners to create underground events, radio shows and perhaps even a label with a strong Techno focus. On the House music front he continues to work with the LA Based "re:love" crew to continue to throw the legendary park parties as well as pushing the brand to extend itself into new venues and opportunities.
While a lot can be talked about when it comes to "Old School," Thee-O walks the walk. He has accomplished a lot in his 24 years of being a DJ, producer and promoter and he is just getting started. He remains wildly popular while staying firmly planted into the underground scene and not falling into the hype that can surround the current EDM culture. With new ventures, new branding, new tracks, and new ideas, the future is going to be one for the books with lots more to come from this music innovator.
After basing his entire dj career out of Los Angeles, Thee-O makes a big move to Oahu on January 13, 2019 to begin the next chapter. We are very excited to support Thee-O's journey and have him play for us at Tropical Oasis Retreat Maui!